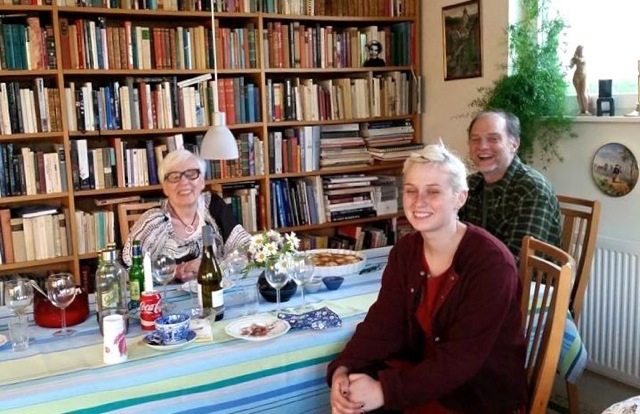 Barbro
Why not visit Stockholm! I am Barbro and I live in a nice apartment in the southern parts of Stockholm, 20 minutes by underground from the very centre of the city.
A Slice of Swedish Hospitality offers visitors a unique chance to discover the cosy,
everyday but still exotic side of Sweden by having dinner with a local family. You can't get much closer to us Swedes than that!
Lunch, a Swedish Fika, coffee break, or supper in a private home will give you a chance to sample some Swedish delicacies, depending on the season and your host's own preferences in the kitchen, and have a chat about everyday life. You can ask about culture and traditions, find out about local stories and anecdotes or get insider tips on what to see or where to shop. Without question the most authentic way of experiencing the Capital of Sweden.
I have always liked to make new acquaintances and to see other countries, especially France. My profession has been to do sociological surveys on student drug and alcohol behaviour in Sweden and in Europe. It means that I have had contact and have been collaborating with researchers in many European countries, which was a very interesting and stimulating experience. I have still contacts with some of them, especially on Facebook.
Music, cinema, art exhibitions (I'm a member of The friends of the Stockholm Modern Museum) as well as spending time in the nature are things that make life rich. We have a small cottage by the sea south of Stockholm, where we spend a lot of time in summer. In the autumn I like to walk in the woods looking for mushrooms. However, I am not particulary sporty, although I sometimes enjoy watching big competitions on TV.
Literature is another of my interests and I belong to a book club with a very mixed age distribution (I am the oldest and the youngest was born in the late 1980's), which gives it an extra dimension. For the moment we are reading Chimamanda Ngozi Adichie's Americanah. I am also involved in the activities of the literary societies in Sweden, for which we organise meetings and gatherings.
I am in my seventies and a widow since about 2 years. I have two daughters who also live in the Stockholm area with their families.
I like cooking and baking, and I think there's nothing as inspiring as to sit around a table with friends, having a good meal and a good chat. Will you join me there? Perhaps then you'll also meet one of my friends or a member of my family.
Welcome to Stockholm!
Gallery