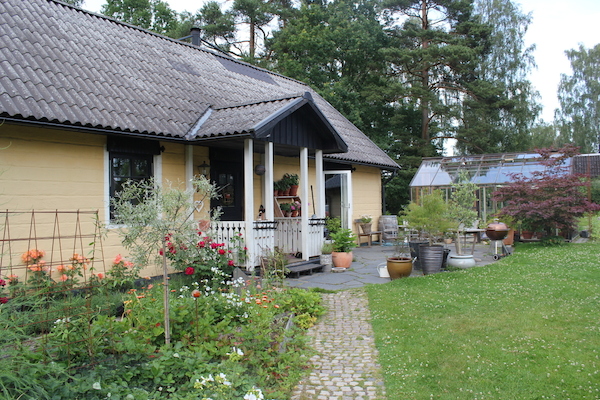 Majsan and Clas
We are a couple and together have the age of a century, but luckily we are two to share…and welcome you to our home in Lillaskog (Small-forest)!
We are a small family, one man, one woman and our dog. We live on a dead-end road, where the beech forest and small fields takes over. This is an area we are very familiar with and love to wander around in, but before we go into our interests let's have a look at us first.
I, Majsan are working in a primary school with kids in the age 6-12 years, I'm very sporty but only for my wellbeing. I love running, biking, both forest cycling and cycling fast on the roads, cross country skiing and have participated in the Vasaloppet 90 Km race several times. When I eat, I eat almost everything but meat, however I eat fish.
Clas on the other hand loves to cook and serve food, basically anything goes down as long as it fits his taste buds but prefers organically grown crops and meat (preferably grown close by).
He is also quite active with running, cycling and paragliding as activities. Clas works as an engineer within the mobile phone business in Lund an commutes on a daily bases.
When we have some time to spare, we spend it on different things, gardening, growing chilies or tomatoes in our green house and of course hiking around in the forest. If everything goes as planned we usually come home with a basket full of mushrooms that we have picked, but that's only in the autumn when they are in season.
As you probably already have grasped we like to ride around on our bikes and on our vacation period as well, using our legs to the fullest. The craziest bike trip we ever made was riding from the most northern to the most southern point of Sweden.
If you would like to visit us for a lunch, dinner or fika we will be do our best to satisfy you, just get in contact.
Welcome!
Gallery