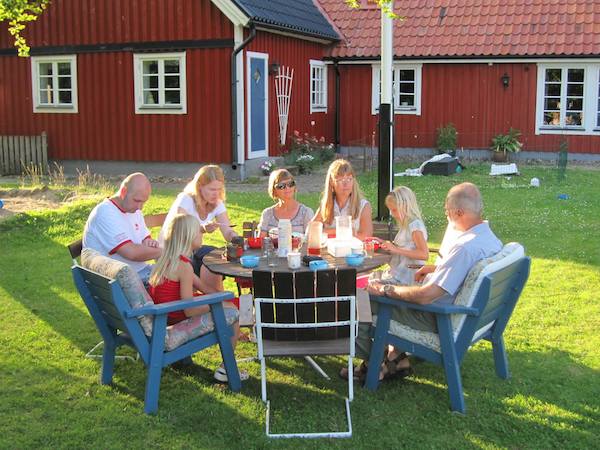 The Franklin Family
We are a friendly and very easy going family with two daughters, Sara (born 1999) and Iris (born 2001). We have a few animals that we love dearly and are part of our daily life. We have two ponies and two cats, seven hens, one rooster and hopefully soon a bunch of chickens. Iris also has four very social rats (we do respect if you don't want anything to do with them). Our neighbors and relatives close by also have cows and sheep.
Sara and Iris love horses above anything and spend most of their free time with the ponies. They also enjoy music and spending time with friends. Thomas was raised in Stockholm and abroad but says he doesn't want to change living in the countryside. He works at the Swedish Transport Administration. He enjoys running, sports and working on the house. Pernilla is a social worker in the municipality and also loves horses. We are active in the local church where Thomas sings in the choir.
We live in a typical southern Swedish country home adjacent to the beautiful beech wood, pastures and the hills of Linderödsåsen. If your stay late be sure not to miss our own "wild boar safari". Some summers, depending on what goodies the farmers grow at the time, we find them practically every evening only half a mile walking from our house. Dears, foxes are also present most days.
Iris has the celiac disease since she was young, so we mostly cook without gluten, and also have a vast experience of other food allergies.
Everyone in the family, except Iris and the cats, are vegetarians so it is very uncommon to find meat at our table. That doesn't mean our food is unexciting or without variation.
On the contrary, we love making new interesting combinations using locally grown ecological products with not so common spices and international ingredients. So if you are ready for Swedish flavors with an unusual touch you won't be disappointed.
Some of our cooking is inspired from traveling a lot. We have lived in Central America during approximately 8 years. This also means we are fluent in Spanish besides English. Sara takes German at school and is eager to practice. Iris studies French, a language Pernilla and Thomas also speak a little.
If you travel by public transportation we would be happy to pick you up at the nearest bus stop five minutes drive from our house. We can also offer you to sleep over at our guest house, newly remodeled but conserving the 19th century style. It sleeps four but if you are a larger group don´t hesitate to ask, we'll do our best to find room for everyone. Please contact us directly if you want to rent the guest house, need pickup or have any other inquiries to t_pfrank@algonet.se.
If you want to know what Swedish "fika" is all about, Iris is a great cook when it comes to baking savory cakes (gluten free of course). If you have the time we could go for a short walk and pick wild cherries, blackberries or raspberries, depending on season, to go with the cake. If you have children who like horses you shouldn't leave us without a ride in the lovely surroundings. If you want us to be your local guide we could also make an excursion with picnic to nearby sights such as "Bosarpssjön", a lake that boosts having the cleanest water in the region.
Welcome to our home
Gallery