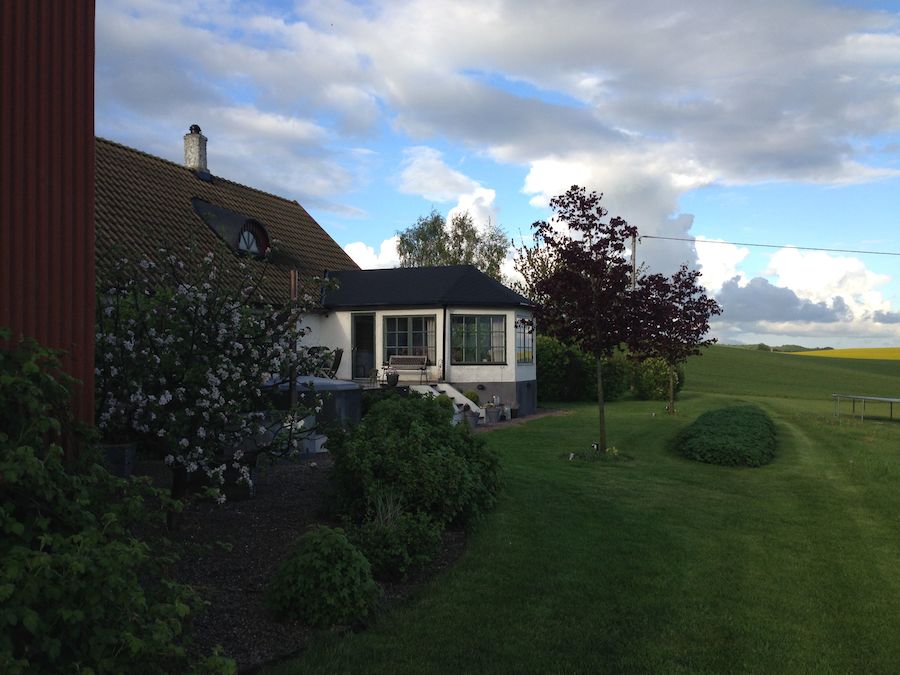 The Pilhamre Family
Here, in the country side close to Ystad, we live in what used to be a farm. The fields surround us and we have a stunning view from our veranda. Our two boys, Leo and Lucas are 10 and 14 years old. They enjoy playing football and computer games. They also have a tractor that can be used in the fields. But most of all they love playing around in our indoor swimming pool. The only animal living with us is a cat. He mostly lies around all day doing nothing at all.
During the last fifteen years we have made us a fantastic paradise to live in. Our garden is a great place to spend nice summer evenings in. Wherever you go you can find yourself a peaceful place to relax in and have a "fika". While you stroll around you can be sure to find something edible, like apples, blackberries, carrots, lettuce and so on.
When we prefer to spend time together we hop into our indoor swimming pool and have a great time playing ball or take a swim. We all like to sit in the sauna afterwards. However, a freezing winter evening, when the stars shine in the clear, dark sky we sit in our hot tub in the garden and have a relaxing time there.
We valuate the wonderful scenery of the billowing fields. We witness the different seasons through the agricultural plantation. Nothing compares to the yellow fields that glows in May. The aroma that comes in August, while the fields are being harvested, reminds you of the approach of the autumn. During winter time the landscape is often covered in glowing white of snow.
In our family there is time for activity together. Håkan is coach for the goal keepers in Leo's football team. A lot of time is spent watching football matches. Lucas is more interested in farming and he helps the farmers nearby with their work.
Håkan's everyday work is repairing dishwashers, washing machines and fridges and he is also an electrician. Lotta has been a teacher for many years but now works with administration in a school.
In our house we have made renovation everywhere. We love doing it all by ourselves. Lotta makes the sketches and Håkan builds and does the repair work. We both have a lot of ideas that will never end.
We are about to get us a dog, so a lot of time will be spent outdoor. Sweden is perfect for outdoor activities with the right of law to access the nature so it is easy to get around and enjoy our beautiful nature.
Hosting we think is a wonderful way of meeting other people and have great discussions. We do speak English, and we are good at Danish. We understand German, a little French and some Spanish. We love cooking and even in wintertime we sometimes put the meat on the grill outdoors. We valuate the nature and use local groceries as far as it is possible. We are concerned of the ingredients in the groceries.
It is possible for us to welcome more than five guests as we have a guest house available on our estate. Of course our guests can take swim in the pool.
Welcome to our home
Gallery